Props to the Direct Marketing Association of the Philippines for getting a clue at their
conference
today. As promised, here's my presentation, and books I liberally steal ideas from:
Getting a Clue: Surviving in Networked Markets
My blatant ripoff of a presentation.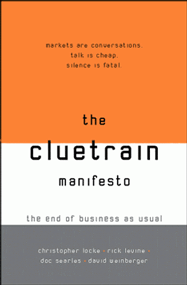 The Cluetrain Manifesto
Guys, if you read nothing else in this post, read this. It'll blow your mind.

To Blog or Not to Blog: How Businesses Can Get Closer to Their Markets through Blogging
A sober-minded, easy-to-follow guide.
Who's There? Seth Godin's Incomplete Guide to Blogs and the New Web
A guide for those with more irreverent, adventurous tastes.
Shout out to Steve Rubel for pointing out
poisonous Trout
.
FOSS
advocates, please don't bash me for putting Bill "G-Money" Gates in the presentation. Say what we like about the man, he gets blogging.
Many technologies enable networked markets -- wikis, discussion groups, message boards, viral video, blogs, RSS, podcasts. This presentation focuses on the last three, the hottest ones at the moment.
The success of General Motors' blogs came up during the discussion; you can check 'em out at
GMblogs.com
Someone asked how many comments posts get. It depends on the post's intentions, fame, virality, content, and audience.
Seth Godin
doesn't even allow any, counting remote comments in his
trackbacks
instead.
Michelle Agnew, on the other hand, offered to facilitate a charity donation of one dollar for every comment on her
post
regarding the recent tsunami disaster. Comments had to be posted within twenty-four hours of her original post to count towards the donation.
Her readers
delurked
, and she got five hundred.