At
IDC's
Asia/Pacific Small to Medium Business Conference 2005 last Friday, experts dished out how up-and-coming tycoons-to-be can benefit from up-and-coming information technologies.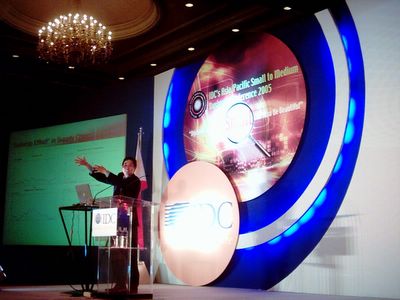 "Abracadabra!" Kidding aside, some of the solutions outlined during the conference can work wonders for small-to-medium businesses.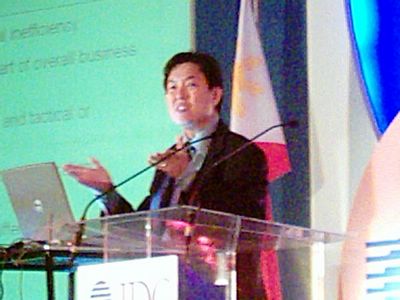 Remember what your elementary schoolteachers told you about how stuff gets from the factory to your hands? Well, a lot of that's changed, thanks to innovations in supply chain management made possible by IT. IDC's Ng Buck Seng shows us how.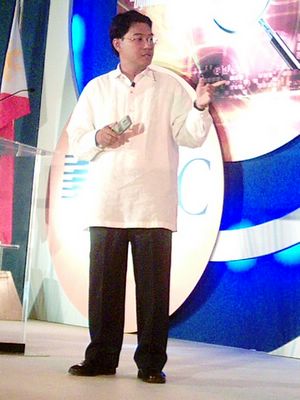 CICT
Commissioner
Dondi Mapa
reveals his plans to make IT empowerment easier for Philippine businesses. This guy has twenty years of private sector IT experience -- and it shows in his concrete examples, meticulous plans, and precise targets. Get involved in the CICT's ICT Blueprint
here
.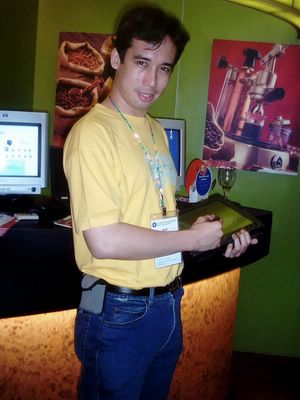 That's me with the HP Compaq
tc4200
Tablet PC, coming to the Philippines in May. This baby got me cozy with its comfy keyboard and three built-in pointing devices; those ergonomic improvements make it a better desktop replacement than the finger-cramping
tc1100
. Thanks to Mark Hipolito for taking the pic. Mark makes great feed management software; if you raise livestock, contact him
here
.
Between the richly informative presentations and the strangely addictive apple pies, the conference was dripping with great insights on how information technology can help world-class Filipino products and services compete globally.
Perhaps Filipino businesses can benefit from a little information narcosis.