Yesterday marked the eleventh anniversary of the first Internet connection in the Philippines, and the Philippine Internet Commerce Society (
PICS
) decided to throw a little birthday bash. Click
here
for the webcast.
Just back from his successful IT ministers' summit in Bahrain,
CICT
Commissioner
Dondi Mapa
is all smiles. Just as smiley is
HSBC's
Tina Pastelero.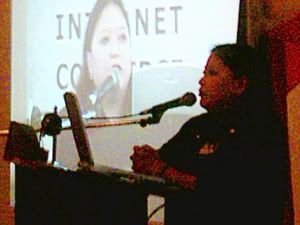 PICS President Maan Tolentino introduces the future.
Microsoft
hotshot Mark Yambot will open your Windows.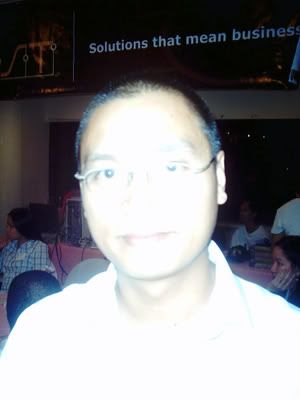 Inq7.net
reporter
Erwin Oliva's
got a tech scoop for ya.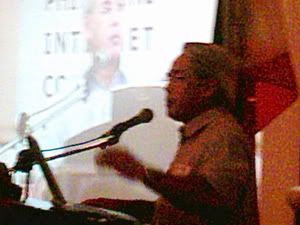 PICS Treasurer Vic Magdaraog's financial management is part of the reason they can afford to party.
IDC
Research Manager Manny Ravago dishes out the numbers that show the future of Philippine cyberspace.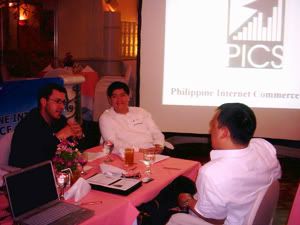 Atty. Teddy Kalaw (center) talks business.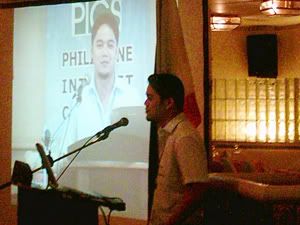 Kokoro Works
Managing Partner
Gabby Dizon
tells us why blogging is big business. To check out his presentation, click
here
.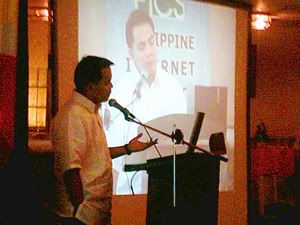 GlobeQUEST WiZ's
Cocoy Claravail shows us how more Filipinos will get their WiFi groove on.
Inq7.net Vice President Mon Lizardo doesn't need to be convinced of the benefits of mobile computing. He's keeping an eye on things in realtime.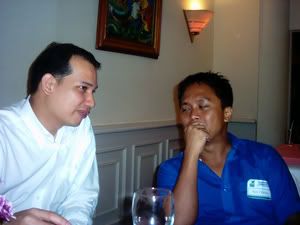 World Cybergames
Philippine Team Captain Tjader Regis (left) gives Inq7.net reporter Alex Villafania the latest scoop on Philippine gaming.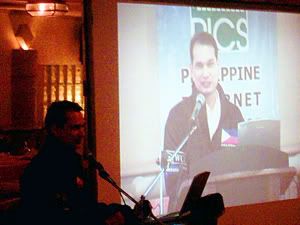 Tjader, Filipino cyberwarrior, tells us how online gaming drives the growth of the Philippine Internet.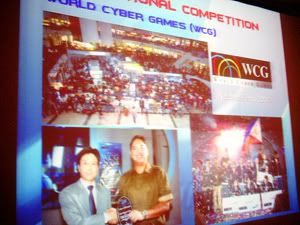 Crowds come to the Philippine World Cybergames finals. Perhaps it's more proper to say gaming
overdrives
the growth of the Philippine Internet.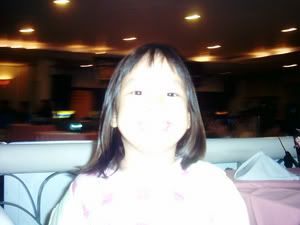 Princess, daughter of
Infostructure
publicist Weng Rivera, shows us you're never too young for tech.
So that's some of what's hot on the Filipino 'Net: blogging, wireless, and gaming. Sounds like fun. ;)