Nintendo
has played around with motion sensing controllers before (Remember the
Power Glove
?) so I'm not surprised they'd try something as kinetic as the
Wii Remote and Nunchuk controllers
.
I played
Mazan: Flash of the Blade
in the arcades. I look forward to replicating that sword-swinging experience with a Wii Remote. Come to think of it,
Namco
should come out with a Wii version of
Mazan
.
I bet fantasy golf game
PangYa
will be a Hell of a lot more fun on a Wii than it ever could be on a PC.
As if in reaction,
Sony
completed final tuning on
PS3
controllers' motion sensing
a couple of days ago
.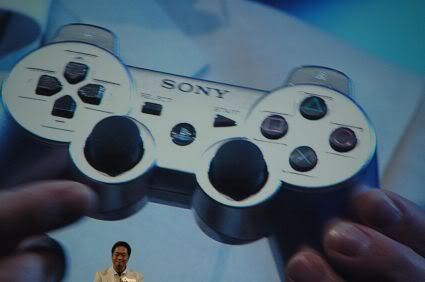 I have no idea how I'll swing that thing like a sword. At least I'll get to use more fingers with it.
With these console makers showing confidence in motion sensing, expect a wave of new motion-sensing peripherals for current hardware platforms in the months ahead.