Friendster
now sports a less confusing homepage layout, but that's not the biggest news.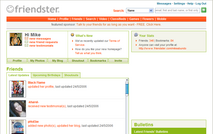 The biggest news is, like
MySpace
has for months, they now support easy-to-remember profile URLs, which were previously meaningless query strings. Mine's
friendster.com/mikeabundo
.
Erratum: Jepoy
points out
that Friendster's been offering easy-to-remember URLs since December 2005.