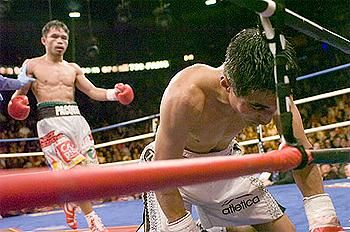 Congratulations to Filipino fighter
Manny Pacquiao
on TKOing Eric Morales two minutes and 33 seconds into the 10th round. Sorry, Morales -- no link love for losers.
Like a true underdog, "Pacman" let Morales have some fun in the first five rounds, but turned the tide in the last five. Round-by-round account
here
.
As I type this, local TV is only now about to show the second round. Traditional media will share Morales' fate.
(Photo via
FightNews.com
.)