Gabby Dizon and I talked about
Creating Consumer Evangelists: Blogging and Other Participative Technologies
at the
4th National E-commerce Congress
Tuesday.
Yes, I know. The title
Creating Consumer Evangelists
sounds similar to the title of the book
Creating Customer Evangelists
. I thought up the topic title weeks before I found out about the book. So sue me.
Gabby delivered an excellent
presentation
on the mindset of consumer evangelists and the companies that support them, along with resources to help companies get started. Just dig his photo of an orgasmically-pleased tissue paper fanatic, and stories of people actually donating money to help out their favorite companies.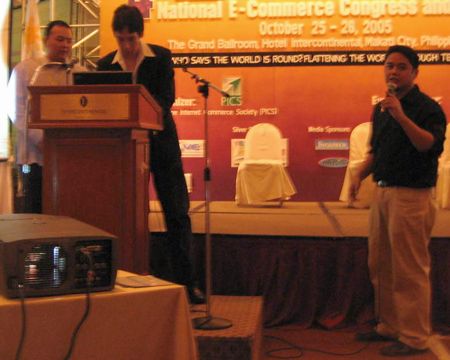 Pathfinder's
Tatu Zablan (left) was kind enough to join us on stage and explore how his company can get deeper into the global conversation. He's already planning to put RSS on his company's online forum. Speaking of which, Tatu, check out
RSS Content Syndicator
for phpBB. Photo courtesy of
Jerry
, who's been a shutterbug of late with her new 5 Mpx cam.
We also screened examples of viral video (
numa numa i-ay...
), and how companies can leverage the prosumer's republishing power. Check out Chicken Little
doing
the Numa Numa and Bill Gates in
Napoleon Dynamite
and
The Matrix
.