A while back, I
blogged
on the National Telecommunications Commission (NTC)
ruling
that would allow Filipino companies to offer voice over Internet protocol (VoIP) services to Filipinos without the burden of a congressional franchise.
That ruling may soon have the force of law, as Congress proposes the
Alternative Telecommunications Policy Act of the Philippines
and the
Philippine VoIP Act of 2005
. Representative Simeon Kintanar, chairman of the congressional committtee on ICT, recently gathered together resource persons from the public and private sectors to discuss these bills.
Members of the congressional ICT committee discuss the VoIP bills. When people discuss the future and smile, it's a good sign.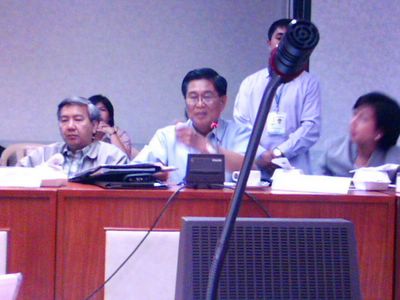 Show, don't tell.
Mozcom
President Bill Torres whips out a USB netphone to demonstrate a point.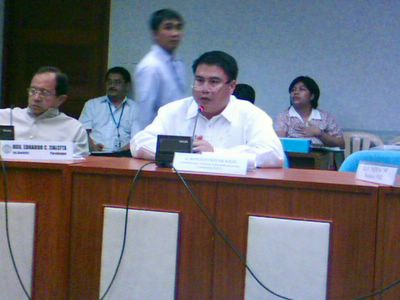 NTC Commissioner Ronald Olivar Solis explains the NTC's VoIP ruling. I have a feeling consumers can expect good things from this man.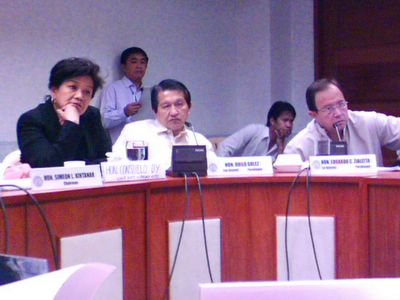 Reps. Consuelo Dy (left), Roilo Golez (center), and Eduardo Zialcita (right), ponder the possibilities of free communication. Rep. Zialcita got very frank when telcos started raising legal bogeymen against other companies attempting VoIP. Rep. Golez cited the extreme example of emailing MP3's, rendering the telco's semantic arguments on voice service ridiculous.
Before the Electronic Commerce Act of 2000, I remember Rep. Golez mentioning that he's an
Amazon
shopper. Before the Second EDSA Revolution, I remember seeing Rep. Golez cruising computer stores while listening to his MP3 player. This guy clearly practices what he preaches.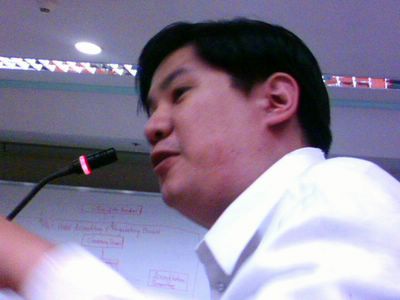 My colleague,
Philippine Internet Commerce Society
(PICS) Vice-President for Advocacies
Teddy Kalaw IV
, presents a brilliant historical analogy involving cars and horse-drawn carriages.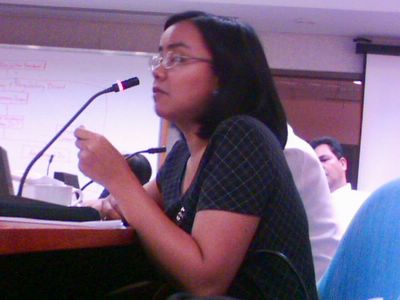 PICS Committee Chairperson Gwen de Vera has the last word.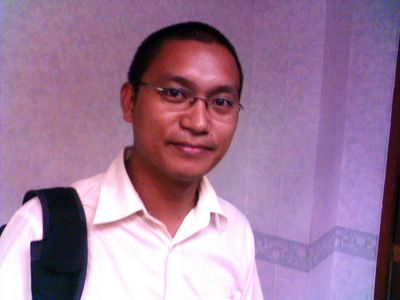 Again,
Inq7's
Erwin Oliva
covers it all for you.
Overall, the congressmen present clearly understood the value of VoIP choices to the Filipino. A country that exports millions of professionals must promote every means possible to keep those professionals in touch with their loved ones.