Smart Communications
launched the 1st SIP Apps Challenge the other day, challenging developers to come up with mobile apps that leverage
session initiation protocol
(SIP).
Smart's Ramon Isberto makes geekspeak fun.
Smart's Ramoncito Fernandez welcomes the contenders.
ePLDT's
Ray Espinosa shows off his company's newest IT services.
Email could someday become as ubiquitous in the Philippines as SMS is today.
In plain English, this is part of the reason the Philippine
Ragnarok Online
service can handle 50,000 concurrent users.
He may look like the latest Korean soap opera heartthrob, but
Forum Nokia's
Joshua Pak lights up
much
smaller screens.
The latest mobile devices are status symbols in the Philippines.
Bomberman
rocks.
When your mobile device can become a universal remote, imagine the havoc you can wreak at electronics stores.
Noumena Innovations'
Zeus Chen makes mobility fun.
Noumena's
IP multimedia subsystem
(IMS) games let you connect to anyone, anywhere -- so you can kick their asses on the go.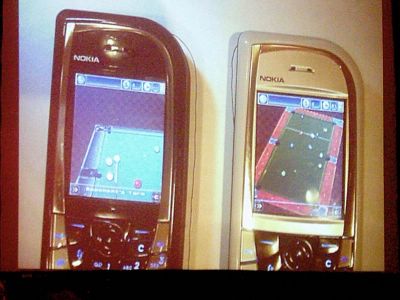 Efren Reyes
would approve.
Pandas in tanks rock.
Smart's Edgardo Bautista explains the contest details.
Nokia's
Frankie Naranjilla tells the contestants to get going.
With the Philippines' number one cellular operator and number one cellphone brand embracing SIP, the SMS capital of the world can expect even more mobile fun in the coming years.