I read this announcement of a missing person on the blog of tech journalist
Joey Alarilla
, who reprints an email from his fellow tech journalist Selwyn Alojipan.
I pray for Mary Crystal's safe return.
________________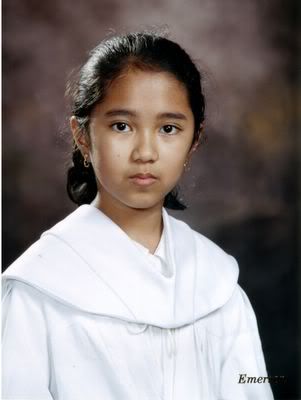 Announcement of Missing Person: Mary Crystal F. Alojipan
My daughter, Mary Crystal Frias Alojipan, age 14 (born 31-Aug-1990), left our house alone at 8-C Maginoo Street, Barangay Pinyahan, Quezon City on 12:30pm, Maundy Thursday, 24 March 2005, to go to her sister's house in Pacita Complex, San Pedro, Laguna. She was supposed to take a bus from EDSA Kamias and should have arrived sometime at about 2pm. She didn't arrive and we all got worried and called up her friends and classmates.
At 11:20 am, Good Friday, 25 March 2005, Crystal called up our home phone crying. She said her bus had been held up and she didn't know where she was. We asked her questions but she was crying and very distraught. She said she was safe and with a few of the other passengers who had been given shelter by a certain "Helen Arcilla," owner of a sari-sari store on "#45 Claro Street, Magallanes," (no mention of barangay, city, or province). When we asked to talk to the lady, Crystal said they were having lunch and that we should call again at "02-892-0105" to talk to them.
Other details: Crystal said she wanted to go home but didn't have money so the people in the store wanted her to exchange her watch for some cash. I was worried that she might encounter another incident on the way so my wife and I said we'd go to fetch her if she can wait. In the meantime, I told her to remember and write down as much of the details of her robbery for later analysis. All the while she was crying but seemed unable to give any details without having to ask someone beside her. We never heard anyone else talk on the phone. We have received no other phone calls from her or about her current condition and location.
We prepared to leave for Magallanes and tried to call the number but there was no answer. On arrival at Magallanes EDSA Interchange, we went to the PNP detachment under the Interchange and discovered there was no "#45 Claro Street" anywhere in Makati and that the number "02-8920105" belonged to "Don Bosco Technical Institute." Like wise no "892-0105" number could be dialled at area codes 46 (Cavite) or 44 (Laguna). So far, there are also no reports of any bus robberies or holdups that took place on that date. This leads to the conclusion that most or all of the other info provided to us by Crystal in her conversation was coerced on her or made bogus by the person/s having custody of her.
I called up my brother Glenn who was staying temporarily in Ternate, Cavite, and he tried to go to Magallanes town near Maragondon, Cavite, but couldn't locate the address or the "Helen Arcilla." I sent the word out to PNP 117, filed a police blotter at QCPD Station 10, and at the Women's and Children's Desk of the PNP CIDG in Camp Crame. Likewise, the information is now on the Malacañang War Room hotline flashed to all PNP units.
Attached is her photo and other personal details. Height = 5'1"; Weight = about 90-100 pounds (40 kg); chinky-eyed, round face, shoulder-length curly hair; loose (fractured) upper inner right incisor. Last seen wearing blue jeans, striped multi-colored blouse, black step-in sandals, and carrying a black backpack. She didn't have a cellphone with her. You may get other details about Crystal at her Friendster accounts: mca_virgo and mca_berks.
She's finishing third year high school at Don Quintin Paredes High School (Anonas St., Project 2, QC).
If you see her or learn her current status, please call PNP 117 c/o Agent Code 0044 (or anybody) and give the full details. You may also email me at alojipan@mozcom.com ; or call +63-2-435-2783 and +63-918-9259290. We need your assistance as well as prayer at the soonest possible time so we can recover our daughter.
Later I will be giving the full details to various TV, radio, and print media outlets for public assistance.
==================================================
Selwyn Clyde M. Alojipan Quezon City, Philippines
________________